The nature,the taste,the cities of art and the well-being.
The Lands of the province of Siena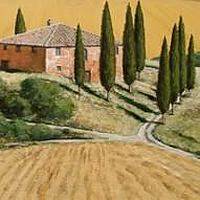 offer one series of distances between art, nature, well-being and gastronomy like perhaps no other place to the world:
leaving from Siena, with its ducky beauties and its sweetness, passing for the "crete senesi, it rocks of covered handicraft and eno-gastronomy between Spas and between hills, until the south of Lands of Siena, heart of the Brunello, the Nobleman and the pecorino of Pienza.
We want to signal one of the means more fascinating in order to travel and to discover Lands of Siena:
The Nature Train
Trains are usually mere means of transport, while the Treno Natura (Nature Train) is a time machine. This is the impression you get when you step onto this very peculiar train and journey along one of its many interesting itineraries.
The Nature Train Project is inspired by already-existing traveling models, which are very popular both in Europe and in North America. It's no accident that its carriages are always crowded with passengers, among which many foreign tourists. The so-called "slow tourism", which has become very popular in the last few years, involves several different kinds of activities, among which touring by bicycle, on horseback,trekking, etc. Tourist railways – especially historic railways – have recently been gaining great popularity in Italy, too.
In fact, there is undeniable delight in the emotion one feels while stepping onto old carriages with doors for each compartment, towed by a vintage locomotive engine or by the famous 640 engine, which almost resembles a steaming coffee machine. This are the trains our fathers and grandfathers used to travel by, with their background noise of whistles, squeaks, and pistons.
There are several itineraries to choose from, all of which unusual and irresistible thanks to the beauty of the local landscapes.
Passengers have the chance to get off at quaint old stations and walk along unspoiled paths, visit countryside churches, villages, and castles, they can stop by a farm or a wine cellar and enjoy a food and wine tasting session, or they can participate in local festivals and fairs. The stunning beauty of the most characteristic areas of Tuscany is thus not only enjoyed from behind the train window, tourists have the opportunity to fully appreciate the local culture, cuisine, and, folklore.
Ordinary days with littorine of age
Advised reservation. The tickets are acquired to edge of the Train Nature.
Route Siena – Asciano – Ancient Mount – Buonconvento with three departures from Siena hours 8,30 – 11,15 – 15,45.